The Malagasy are very attached to their ancestral tradition. They try to keep their customs as long as possible. According to their aspirations, traditions are the traits that characterise and determine them. For the specificity of Madagascar, we can talk about the following points, in terms of marriage.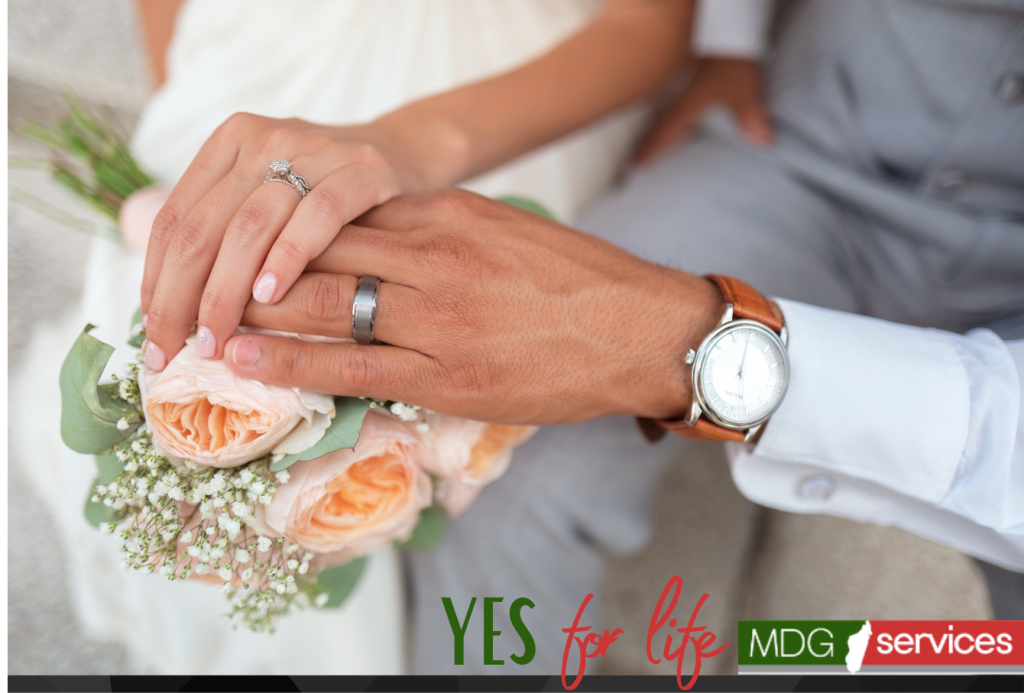 The different stages of a wedding in Madagascar
1) The traditional wedding: The Vodiondry
This is defined according to the different cultures existing in Madagascar, according to the different ethnic groups. In relation to each existing tribe, various habits and customs are to be respected when proposing marriage to a Malagasy.
The true meaning of this step lies in the fact that the elders, the parents of the young woman to be married, are respected for having raised their child to this day.
2) The civil marriage
The law n°2007-022 says it all.
Civil marriage is the second step in the train to marriage. In a state governed by the rule of law, all forms of contract are subject to the law, and marriage is one of them. It is the legal form that the will to live together takes in Madagascar, as in any other country.
3) The religious marriage
This last stage is characterised by the submission of the couple's future to God. It usually takes place in churches. But with the evolution of the concept of God's omnipotence, this ceremony can take place in various places of the couple's choice.
The legal attributes of a marriage
For any legal act that binds two or more persons, we can cite the following as attributes of marriage:
The spouses are obliged to live together, so expatriation is required
The spouses owe each other fidelity, help, assistance and respect
They must contribute to household expenses
Obtaining a family record book as well as documents justifying the union of two people living together
Marriage to a Malagasy
Being married to a Malagasy gives you certain advantages that are not insignificant.
Marriage, by virtue of its attributes, confers :
The right to apply for a long-stay visa to Madagascar.
Naturalization of children born during marriage
The administrative papers and the ceremony
Before embarking on the procedures of a marriage with another person of different nationality than you, it is necessary to consult on the following question: "which entity will be responsible in this matter?
It is a question of deciding whether the marriage will be carried out under Malagasy law or under a foreign law. Once you have decided this, you must request all the necessary administrative paperwork from the competent administration. The administrative papers to be provided differ according to the authorities. Your choice should be related to your aspirations and your concerns about your current situation.
Are you looking for a service provider to help you apply for a visa to Madagascar? Do not hesitate to contact MDG Services.