The new biometric card for foreigners benefiting from a long stay visa in the Malagasy territory is introduced.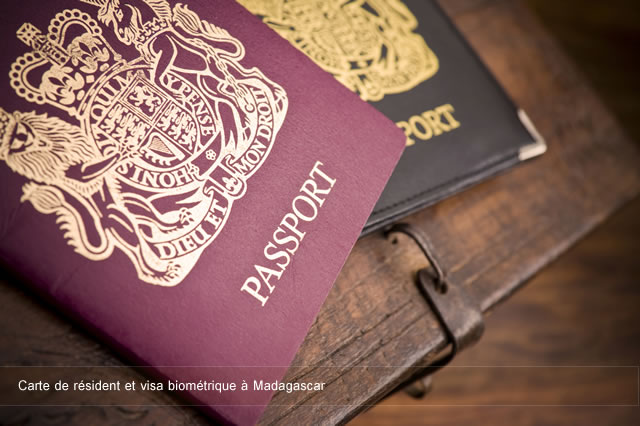 This card is produced, signed and issued by the Ministry of the Interior and benefits from the latest technologies in terms of protection of identification and authenticity systems meeting international standards and security objectives.
The period of validity of a resident card corresponds to that of the residence visa granted to the holder.
The new biometric resident card is mandatory for all foreign nationals who hold a resident card.
The issue of the resident card is subject to the payment of the fixed fee.
By entrusting your files to MDG Services, you benefit from administrative assistance from the preparation to the recovery of your card and visa. We offer you an expatriation assistance service as soon as possible.
The steps to follow:
Preparation and collection of different parts
Filing of documents and photograph with the Interior Ministry accompanied by our representative,
Reminder letter notification after 1 month of deposit, by our agent
Payment and filing of payment of fees upon receipt of the notification letter by our agent
Relaunch and recovery of the resident card and biometric visa affixed in the passport after 1 month of payment
The records to be provided:
Below are the necessary documents to be provided at the time of the application itself to Antananarivo,
Common documents :
02 ID photos
Information leaflet
Request addressed to the Ministry of the Interior and Decentralisation with e-mail address and mobile phone number
Certified photocopy of valid visa
Certified photocopy of the first page of the passport
Certified photocopy of valid resident card
Certificate of residence in Madagascar
Criminal record extract less than 3 months

SUPPLEMENTARY DOCUMENTS BY IMMIGRANT CATEGORY
Investor
Status of the Company
Extract for registration in the Commercial Register
Tax card

Worker
Employment permit issued in Madagascar by the Ministry of Public Service
Employer Employment Certificate (Original)
Family reunification
Birth certificate issued less than 6 months (child) or marriage certificate (family record)
Proof of Resources for Men in Family Reunification
Employment Permit for Family Reunification of Workers

DEPOSITE: Monday to Thursday from 8:30 am to 11:45 am
For more information, do not hesitate to contact us!